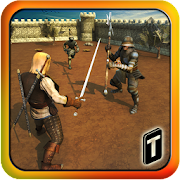 Hear-ye hear-ye! Announcing the official RPG game as ordained by the King Himself to be one of your best endeavors yet!
Ultimate Knight takes you back to Medieval times to the story of Prince Leo the Strong. Forced to flee his homeland due to his depraved cousin Carac, Prince Leo must rescue his love interest, Alys, when she is captured by Carac and entrapped in the Kelvin Castle. To reach his beloved, Prince Leo must cross The Seven Islands, and fight ruffians and mystic creatures! The story begins with Prince Leo venturing out on his ship and approaching Merry Maiden Island.
This adventure is a mixture of RPG and ultimate action fighting! On your way you will encounter various armed forces: archers, guards, pirates, and rival knights. Every island has a secret! Complete the hidden mission to explore each island. After the Skeldergate Bridge checkpoint, fight with monsters like short ax dwarves and goblins guarding the castle. Upgrade your armor and weapons to unleash maximum power! The ultimate battle with thine flesh n' blood cousin is nigh!
Battle for your honor and rescue thine damsel in distress!
Features of Ultimate Knight 2016:
• Enthralling storyline and role playing experience.
•Awesome 3D Medieval Islands to explore.
•Smooth, easy, addictive.
•24 action packed fighting missions.
•Realistic physics and fighting animation.
•Great visual & sounds effects.
•Amazing running, walking, jump & strike modes.
About Tapinator
Tapinator (Ticker: TAPM) develops and publishes games on mobile platforms. The Company's portfolio includes over 250 mobile gaming titles that, collectively, have achieved over 350 million player downloads. Tapinator is headquartered in New York. For more info, visit Tapinator.com.
Minor Fixes & Improvements.